Unidentified White Male
White Male
Date Found:
November 28, 2005
Location:
wooded area in Mesquite, TX
Sex:
Male
Race:
White
Birth Range:
1940 to 1955
Approximate age at time of death:
50 to 65 years old
Weight:
140 to 185 lbs.
Height:
5'9" to 6'2"
Hair Color:
unknown
Eye Color:
unknown
Clothing:
T-shirt with "New Mexico" written on it, "Levi's" jean shorts (waist size 31"), white leather "Fila" shoes (size 11), tan plastic poncho, black baseball cap, green and white blanket, duck pattern blanket, green electric blanket, a black duffle bag containing 1 pair of blue jean shorts size 31 waist, 1 grey/blue sweater with red hearts and cat drawings, 2 blue t-shirts size x-large, numerous pairs of white cotton socks, and personal items.
Narrative:
Found 11-28-2005 in a wooded area next to a creek bed near the 4300 block of Hwy 30 in Mesquite, TX. It appears he had been living near the location where his remains were found. He may have suffered from diabetes. A vial of Novalin R insulin with expiration date 4/2003 was located with his body. DNA profile has been established and is on file.
Contact:
Detective M. Meek at the Mesquite Police Department 972.216.6297.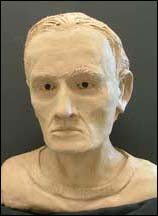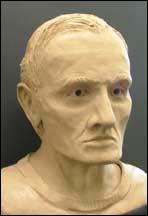 Artist's Facial Reconstruction
top