Unidentified Hispanic Male
Hispanic Male
Date Found:
April 15, 2004
Location:
Brewington Road, Brewington Swamp, Clarendon County, SC
Sex:
Male
Race:
White, Hispanic
Approximate age at time of death:
Young Adult (per Autopsy report)
Weight:
131 lbs.
Height:
5'6"
Hair Color:
Dark Brown
Eye Color:
Brown
Other Identifying Characteristics:
1.5 inch scar on left lower leg, thin mustache and goatee, found wearing Black brief underwear and Black nylon pants.
Narrative:
The body of a young adult Hispanic male was found in Brewington Lake on 4/15/2004 by a fisherman. The body was sent to MUSC for an autopsy and the cause of death was determined to be a single, contact gunshot wound behind the right ear. A small caliber projectile was recovered. It is believed that this individual was a migrant laborer from the area but no concrete leads were developed.
Contact:
Clarendon County Sheriff's Office
217 Commerce St.
Manning, SC 29102
office: 803.435.4414
fax: 803.435.0106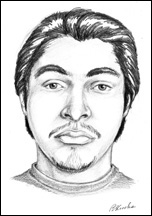 Artist's Rendition
top